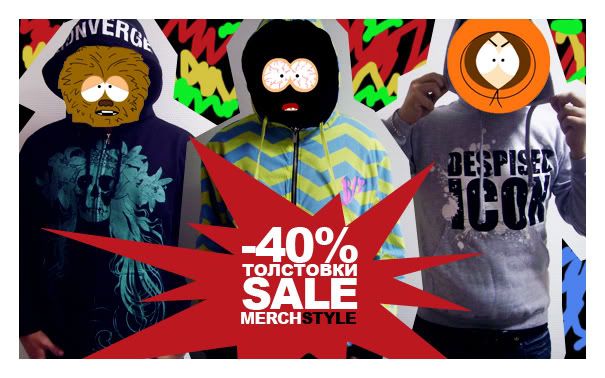 Магазин MERCHSTYLE объявляет грандиозную распродажу!!!
Теперь каждая толстовка со склада стоит на 40% дешевле!!!
Поторопись!!!
МЕРЧ
Aborted, AFI, Alexisonfire, Anthrax, Anti-Flag, At The Drive In, Atreyu, Avenged Sevenfold, Avril Lavigne, Behemoth, Bloc Party, Bullet For My Valentine, Caliban, Chimaira, Chiodos, CKY, Coheed and Cambria, Comeback Kid, Cradle Of Filth, Darkest Hour, Despised Icon, Evanescence, Fall Out Boy, God Forbid, Green Day, Hatebreed, Hatebreed, Ignite, Ion Dissonance, Job For A Cowboy, Lagwagon, My Chemical Romance, NOFX, Poison The Well, Psyopus, Ramones, Senses Fail, Silverstein, Slayer, Slipknot, Strike Anywhere, Taking Back Sunday, The Black Dahlia Murder, The Hope Conspiracy, The Unseen.
БРЕНДЫ
Adeline Clothing
Avenging-animals
ESP
Ride The Rockett
----------------------------------------
----
ВЫБРАТЬ/ЗАКАЗАТЬ